Dr Nicholas Cunio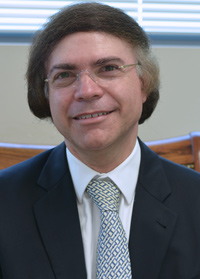 MBBS FRACP FCSANZ
Current Clinical Interest
Adult Cardiology
Non-invasive evaluation
Echocardiography including Stress Echo
Nick trained in Cardiology at St George Hospital and has remained in the area since. He spent time at Toronto General Hospital Canada under Prof Harry Rakowski a pioneer in Echocardiography. St George Hospital was an early adopter of echocardiography in the 1980's. Nick helped set up Transesophageal Echocardiography at St George Public performing many the first 1000 studies there as part of clinical research. He also used early technology performing the first Stress Echocardiograms at the hospital. He was awarded the Young Investigators award at the St George Hospital Centenary Symposium in 1994. His main interests remain in general clinical adult cardiology, non-invasive evaluation and Echocardiography including Stress Echocardiography.
Associations/Registration
AHPRA, Australian Medical Association.
Member, Cardiac Society of Australia & New Zealand.
Member, American Society of Echocardiography
APPOINTMENTS
1996 - present
VMO Cardiology - St George Private Hospital (SGP), Kogarah
2004 - 2017
Chair Dept of Cardiac Services, SGP
2004 - 2017
Member Medical Advisory Committee SGP
1999 - present
VMO Cardiology - Kareena Private Hospital, Sydney
1996 - present
Chairman Body Corporate, SGP
Practice Addresses
Suite 8, Level 5, SGPH, 1 South Street, Kogarah, NSW, 2217
Phone: 02 9553 7477
Fax: 02 9553 7725
74 Kareena Rd, Miranda, NSW, 2228
Phone: 02 9526 8820
Fax: 02 9526 6979
Training
1984 - 1986
Intern and RMO RPAH, Sydney (Including Dubbo & Orange Base Hospitals)
1987 - 1989
Medical Registrar Basic Physician Training POW/PHH, Sydney
1990 - 1993
Advanced Cardiology Training St George Hospital (SGH), Sydney
1994 - 1995
Cardiology Research, SGH, Sydney Young Investigators Award SGH
1995
Clinical Fellow Dept of Cardiology Toronto General Hospital, Toronto, Ontario, Canada.