Dr Richard Szirt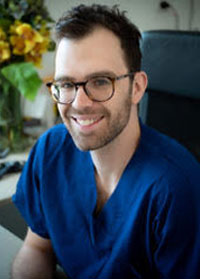 BMedSci, MBBS, FRACP, FCSANZ
Interventional and General Cardiologist
Dr Richard Szirt is an Interventional and General cardiologist trained in Australia and the Republic of Ireland. He is a Fellow of the Royal Australasian College of Physicians (FRACP).
After growing up in the St George area, Dr Szirt graduated from the University of Wollongong in 2010 with a Bachelor of Medicine and Bachelor of Surgery (MBBS). He was part of the inaugural graduating class and spent a substantial amount of his medical school training on the far north coast of New South Wales. He then went on to complete his internship and residency at The Wollongong Hospital.
Subsequently he completed his Basic Physician Training at Prince of Wales Hospital in Sydney, passing the physician examinations at the first attempt.
Dr Szirt next completed three years of specialty cardiology training in the South East Sydney Local Health District Network comprising rotations through St George, Prince of Wales, Sutherland and Port Macquarie Public Hospitals. Following completion of his specialist training he was conferred fellowship with the Royal Australasian College of Physicians.
He then went on to complete two years of subspecialty training in Interventional Cardiology. The first year of fellowship was undertaken locally at St George Public Hospital and the second year was performed overseas in the Republic of Ireland at St James's Hospital in Dublin, which is the largest volume coronary interventional centre in Ireland. On completion of his fellowship in Dublin and testament to his ability, he was appointed as a Consultant Cardiologist at St James's Hospital.
On return to Australia he commenced as a staff specialist at St George Public Hospital.
Dr Szirt is trained in and performs all aspects of coronary intervention including rotational atherectomy, excimer laser atherectomy, intracoronary lithotripsy and chronic total occlusions. He has a particular interest in complex bifurcations, calcified lesions and intracoronary imaging (IVUS and OCT).
Dr Szirt is actively involved in medical education and is question writer for the RACP examinations. During his time in Dublin he was a clinical tutor for medical students studying at Trinity College and is currently a conjoint lecturer at the University of New South Wales.
Current Appointments
St George Public Hospital – Staff Specialist
Hurstville Private Hospital – Visiting Medical Officer
St George Private Hospital – Visiting Medical Officer
Professional Memberships/Fellowships
Royal Australasian College of Physicians
Cardiac Society of Australia and New Zealand
Irish Cardiac Society
European Society of Cardiology
Society of Cardiovascular Computed Tomography (SCCT)
Practice Addresses
St George Private Hospital
Suite 11, Level 5, 1 South Street, Kogarah 2217
Phone: 02 9553 7344
Fax: 02 9553 7695
Southern Cardiology
74 Kareena Rd, Miranda, NSW, 2228
Phone: 02 9526 8820
Fax: 02 9526 6979